Man and Van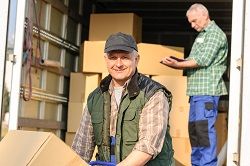 Although we might be a removal company that deals primarily with larger removals of a residential or commercial nature, we also provide smaller services for those odd jobs that need doing but you might have been putting off for a while. Westminster Removals provide you with a man and a van so you can get those little jobs done with relatively little stress and at low costs too. If you need help taking things to the tip, or if you are a landlord moving furniture from one property to another, or if you just need to put a couple of things in storage then we can help.

Home owners often collect a great deal of unwanted items and eventually you need to get rid of them in order to create space and keep your house looking uncluttered and tidy. We can provide you with a member of staff and a van that will take away anything you want and deposit it at the skip so you don't have to worry about it any more. If you've recently been cleaned out your attic or garage and you have a pile of things on your driveway like old pieces of carpet, old furniture and all the other things that home owners tend to collect, then get in touch with us and we can take it away for you. Similarly, if you have garden waste that needs disposing of then we are more than happy to put it in the back of our van and dispose of it for you. Our service is cheap and will save you time as well as money.

Furthermore, if you are a landlord and you are relocating furniture from one property to another in between tenancies then you don't need to worry because we can help with that too. It doesn't matter if you are just moving a sofa or a bed, we're more than happy to help in order to make the transition quick and efficient. We understand that landlords are constantly having to undertake such small removals which is why we keep our costs low. By hiring our man with a van you will be able to get it done quickly and efficiently, as well as having assistance with any physical aspect of the move.


If you need to store furniture for a short time, then we can help with that too. Maybe you are trying to create space for new furniture and you haven't found a way of getting rid of the old stuff, in which case we are perfect for you. We can come over and help you load up the van with the furniture and take it away to secure storage. This will buy you time and space in the short term, which is essential when purchasing new furniture or if you are reorganising your home.

Although you can pick up a man with a van in most newspaper classifieds, it is much better to hire a larger company to do the same job because you know exactly what kind of service you will receive. We have the resources to accommodate any request you have, and therefore make us a much better choice. Rather than waste your time spending hours looking through newspaper advertisings, why not just use our man and van service to do the same job with better efficiency. All of our staff have fantastic inter-personal skills and are extremely hard-working. They can help you with anything you need and will do their utmost to make sure your requests are met. If you want such a service for those small jobs, call us on 020 8746 9656 and we'll do anything we can to help.